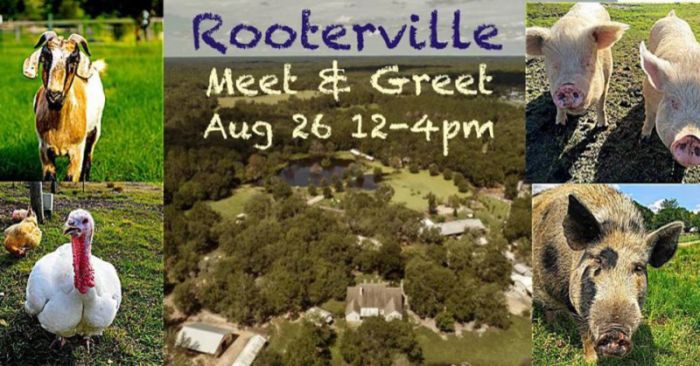 Come on by for a family-friendly tour of this 30-acre farm in Melrose listed for sale with Savvy + Co. Gainesville. This farm is currently owned by Rooterville, a sanctuary for over 300 animals including pigs, goats, and cows. Meet many four-legged friends and a few people, too! We'll be serving vegan food and refreshments. Gainesville Pet Rescue will also be in attendance with photos of pets up for adoption.
**DO NOT USE YOUR GPS TO NAVIGATE DIRECTLY TO ROOTERVILLE** We recommend that you navigate to Abilene Baptist Church in Melrose, then follow our directions listed below. The address for Abilene Baptist Church is 187 Putnam Loop Road Melrose, FL.
From the church, turn right onto Bellamy Road (it is dirt) and take your third left at Darwood Street about 1/2 mile down the road. Turn left onto Darwood Street and Rooterville is about 1/2 mile down the winding dirt road. Our entrance gate is clearly marked with our sign, and our gate is not locked – it is just chained.