(07/06/2020)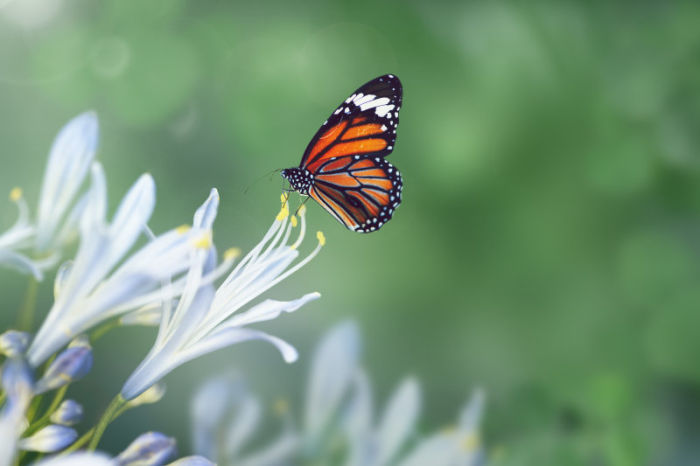 After taking thorough sanitation measures to combat COVID-19, the Florida Museum of Natural History is finally open for business once again. "We've done lots of deep cleaning in the museum — we don't often have a chance to do that because we are open 352 days a year," Darcie MacMahon, director of exhibits, told Gainesville.com.
---
(06/29/2020)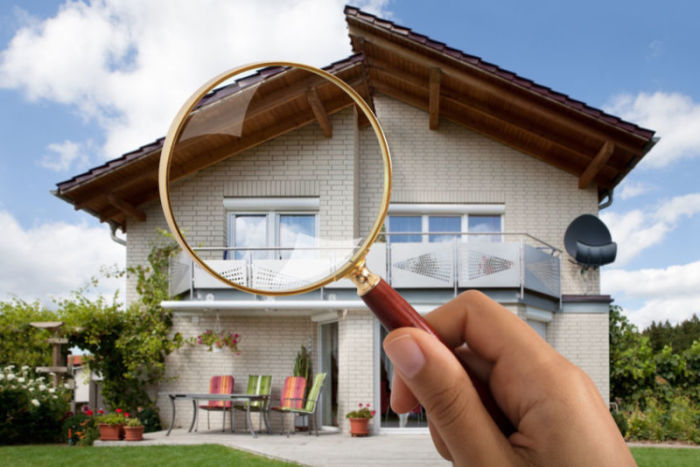 Even during the COVID-19 outbreak, real estate transactions go on. Buyers and sellers still
need to move, and the industry is looking for new ways to accommodate both the needs of
the transaction and, of course, the safety of everyone.
Many traditional real estate activities can be performed virtually...
---
(06/22/2020)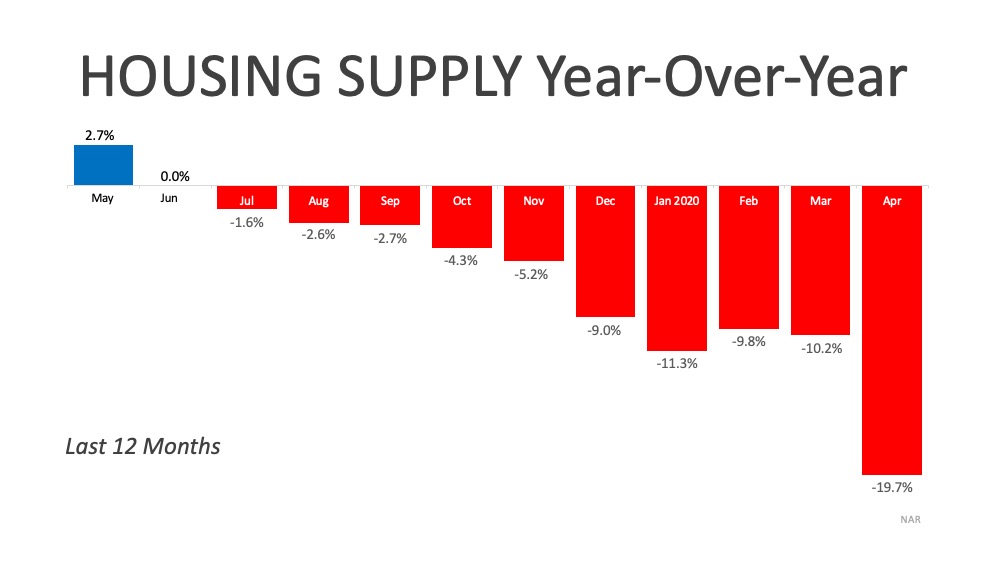 According to the latest FreddieMac Quarterly Forecast, mortgage interest rates have fallen to historically low levels this spring and they're projected to remain low. This means there's a huge incentive for buyers who are ready to purchase. And homeowners looking for eager buyers can take advantage of this opportune time to sell as well.
There's a very positive outlook on interest rates going forward, as the projections from the FreddieMac report indicate continued lows into 2021:
"Going forward, we forecast the 30-year fixed-rate mortgage to remain low, falling to a yearly average of 3.4% in 2020 and 3.2% in 2021."
With mortgage rates hovering at such compelling places...
---
(06/17/2020)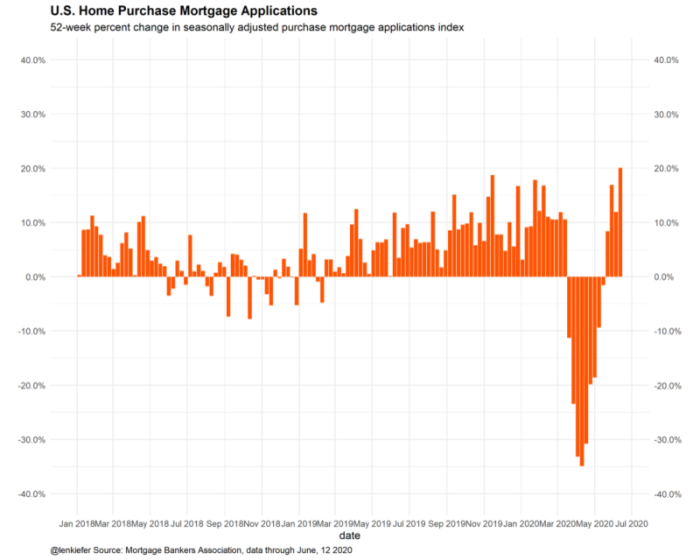 Today, data came out that showed mortgage purchase applications up 20% year over year. The graph is pretty incredible - it shows the stark slowdown and then a fast snapback.
---
(05/26/2020)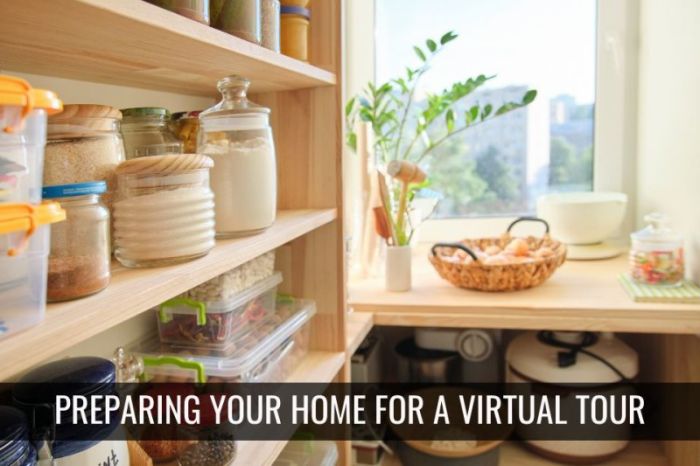 Technology is helpful in so many areas of life, even real estate. Twenty years ago, if someone
were moving across the country, they'd have to wait to buy a house until they arrived to start
their new life, or they'd have to buy a home without seeing it in person beforehand. Both options
would cause extra unwanted stress on top of moving to an unfamiliar place. Luckily, with the
rise of technology, virtual tours are here to save the day!
---
(05/05/2020)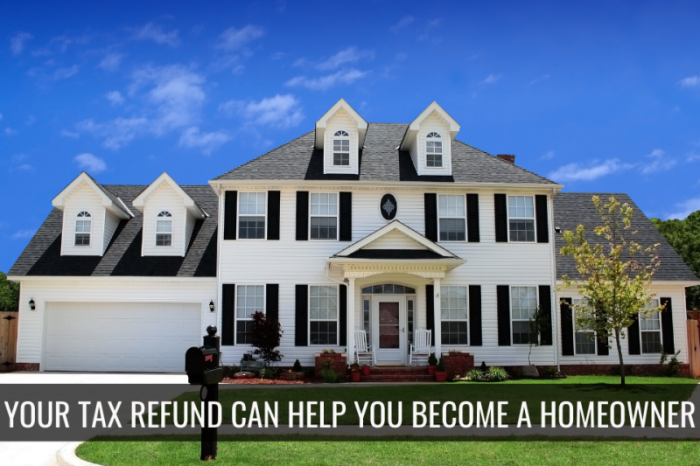 Since the IRS extended tax deadlines due to COVID-19, people are still receiving their tax returns through the next couple of months. Read about how they can support your homeownership dreams!
Saving money each month toward a long-term goal is increasingly difficult for
most people. Even committed savers can get thrown off track when unexpected
problems or opportunities arise. It can be difficult to envision how $200 a month
can add up to a new home...
---
(05/05/2020)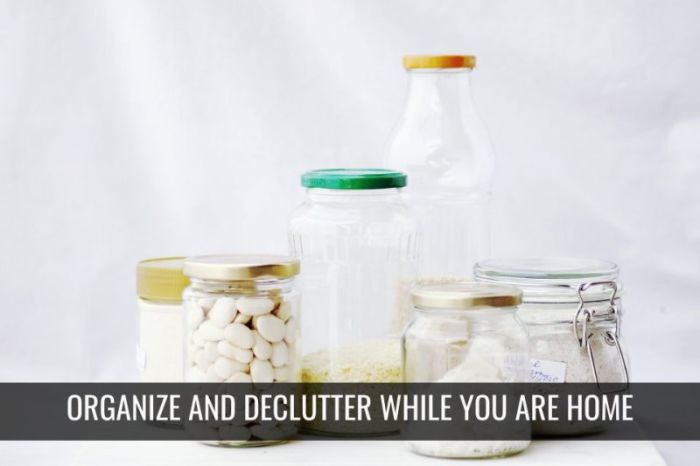 During a time when so many people are hunkering down at home, it can be challenging to keep
a tidy house, especially when you have kids, pets, and other adults living in the same space. It
can be stressful and overwhelming at times, trying to find a balance of keeping everything
organized and clean while maintaining one's sanity. There are a few tips to help keep your
house in order while everyone is home, and while you have some downtime to knock out some
much-needed organization projects.
---
(05/02/2020)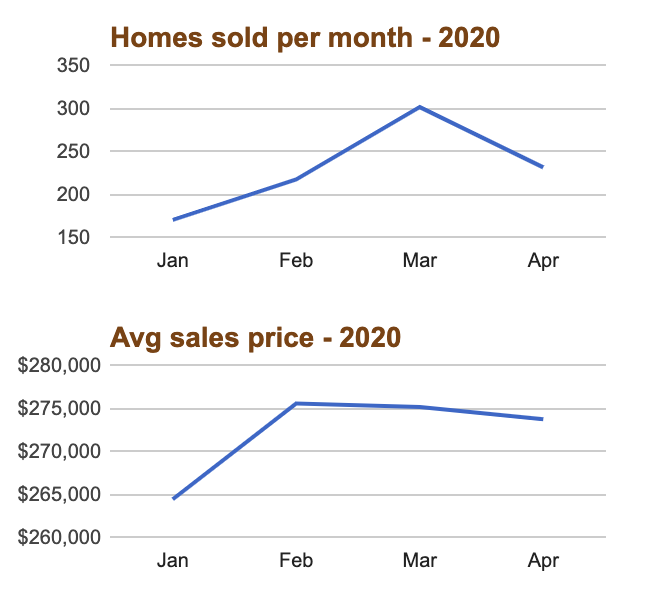 The coronavirus pandemic has thrown a stick in the spokes of real estate, so to speak, but the market impact thus far probably isn't what you think.
---
(04/30/2020)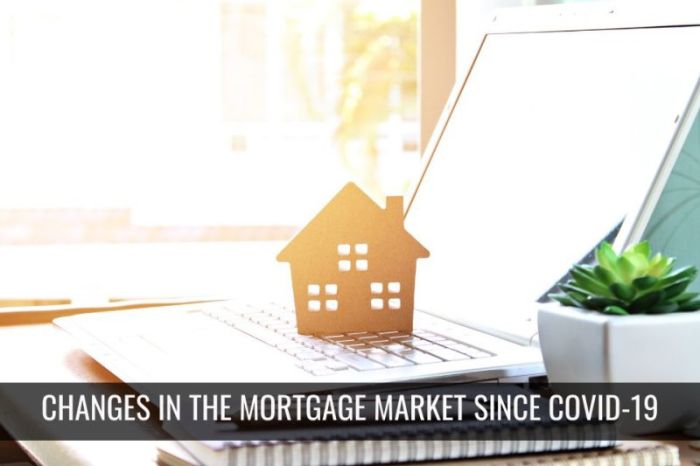 It's been difficult to adjust to a new normal during the past few weeks. With most residents being
asked to stay at home, there are many who have recently lost their jobs or been asked to work
remotely. The mortgage industry has also taken a big hit that has directly affected homeowners,
renters, and investors alike...
---
(04/30/2020)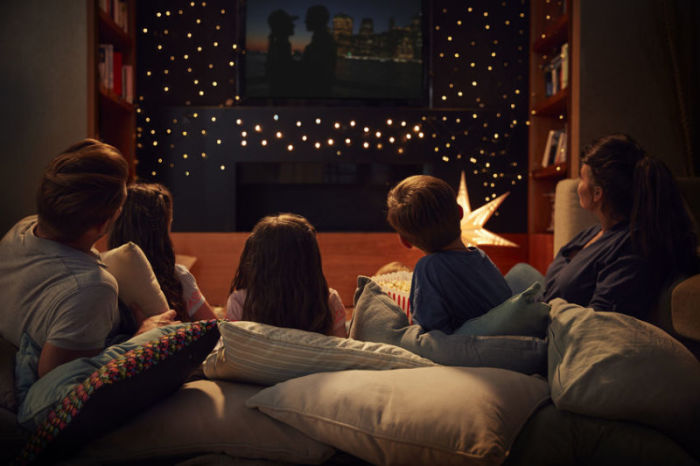 During the past couple of months, families have been asked to stay at home. It can be
challenging to keep everyone entertained when we aren't able to go out of the house except to
work in essential jobs, enjoy fresh air, and get groceries. Luckily, there are plenty of fun
activities that the entire family can do together at home...
---
(04/27/2020)


Medical Students at the Universityof Florida have created a website known as 6ftcloser that gives the community the opportunity to post comments or videos thanking health care workers for putting themselves at risk to help others.



---
(04/19/2020)


Hospitals across the nation have become overwhelmingly unprepared due to their lack of medical equipment, so lab teams at the University of Florida along with the help of oother private companies have teamed up to provide the necessary equipment.



---
(04/17/2020)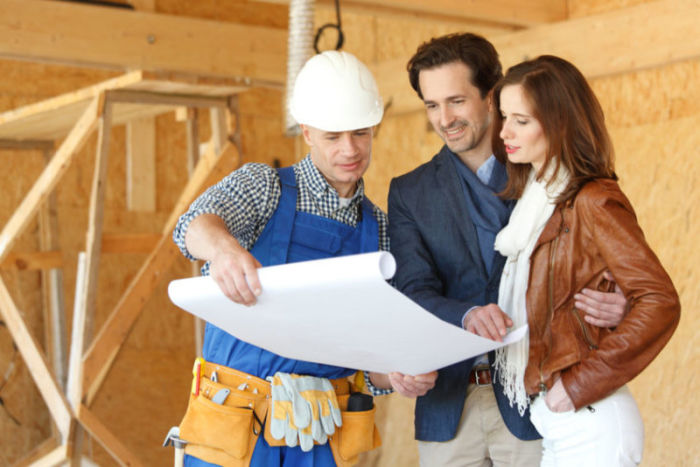 New construction home developments have sprung up across the country. They show
beautiful new designs in both living spaces and exterior details. It's appealing to have the
ability to choose your flooring, countertops, cabinets, lighting, and other features—moving
into a home no one has ever lived in. Yet, there are also good reasons to consider a resale
home as well.
---
(04/14/2020)


Despite the closing of many big state parks in Florida, many provately-owned and city-owned parks will remain open to the public. Places like Sweetwater Park, Broken Arrow Bluff Nature Park, and many others welcome individuals to get out of the house to enjoy nature while maintaining social distancing and other CDC guidelines.



---
(04/05/2020)


Despite the recent spread of COVID-19 throughout Florida, local Gainesville businesses are finding new and creative ways to not only stay open, but give back to their communities. Businesses and volunteers are coming together to support one another using technology, donations, and new ideas.



---
(03/27/2020)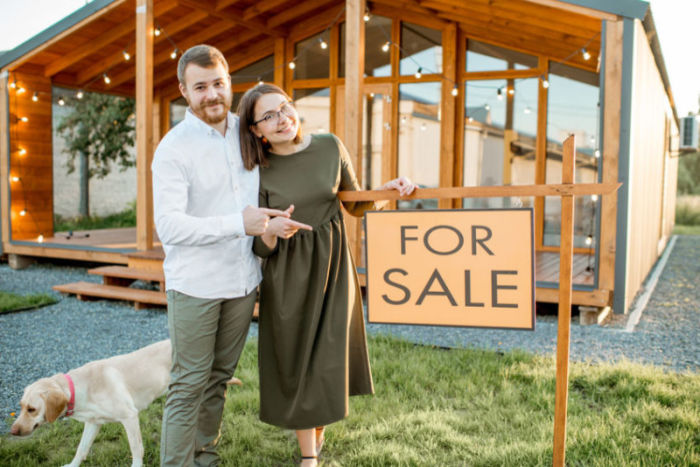 There are so many questions and concerns amid the Covid-19 coronavirus
outbreak. The real estate market is especially hard hit and sellers are concerned.
Real estate at its core is a people business. It relies on person-to-person
interaction and the coronavirus necessarily limits this contact. As the spring
selling season gets started, home sellers will have questions and it's important to
acknowledge concerns and offer practical advice and concrete information to
help sellers make the best decision for themselves and their families.
---
(03/27/2020)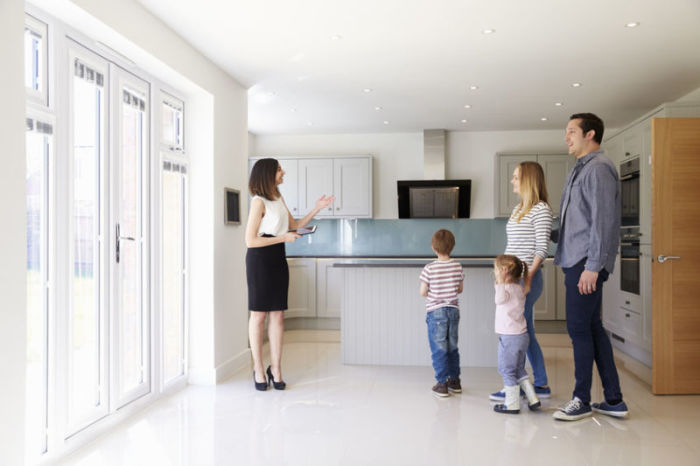 Everyone is being affected in some manner by the outbreak of Covid-19 coronavirus. During this
time, buyers will have more questions than normal about the home buying process and their
ability to buy a new home... Here are a few common buyer questions as they related
to the Coronavirus outbreak and real estate answered.
---
(03/15/2020)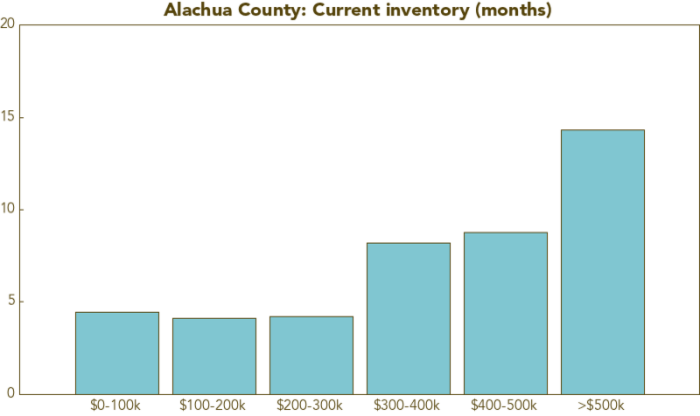 As the Coronavirus pandemic hits the stock market & hospitality industry, there have been questions of how it will impact real estate. After all, buying a home doesn't involve going out in a crowd.
---
(02/04/2020)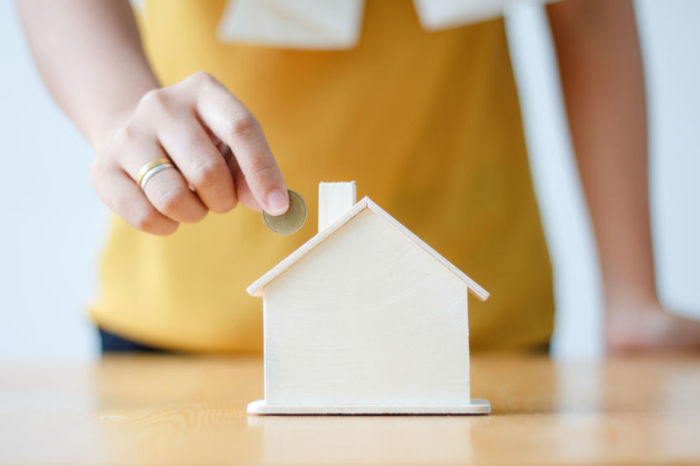 Predicting the housing market is like an Olympic event; everyone loves to
predict the ups and downs of the real estate market. As we enter 2020 consumers
are wondering if it's a good time to buy? What can home buyers expect this year
and is it time to move?
---
(02/04/2020)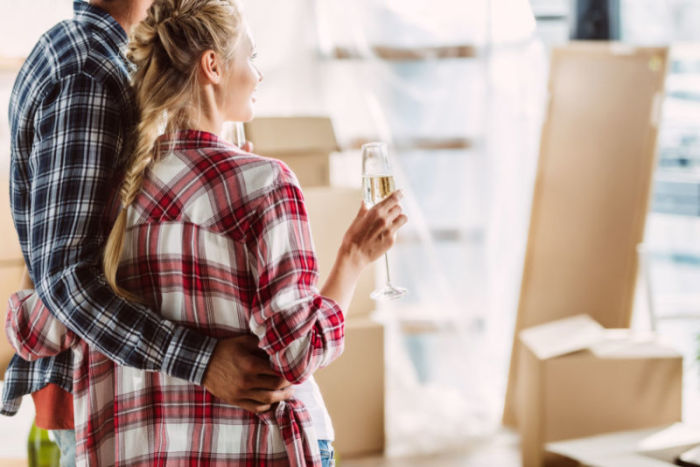 Buying a home is a huge commitment and one which should be considered
carefully before undertaking. Not only are you committing to years of the
mortgage, but you are also putting down roots in a community for some period of
time. As more and more Millennials consider the pros and cons of buying their
first home, they are often confronted with a barrage of information containing
half-truths and outright lies. Here are 2 common myths which cause my potential
buyers to hold off buying a home.
---