When it comes to staging your home, the garage is one of the last places you're probably considering. The living room and kitchen are two of the spaces that hold the most weight to the buyer. If you're feeling confident in your staging of those rooms, you'll want to use your garage as an additional perk that will push the buyer over the edge or even encourage them to put down a higher offer.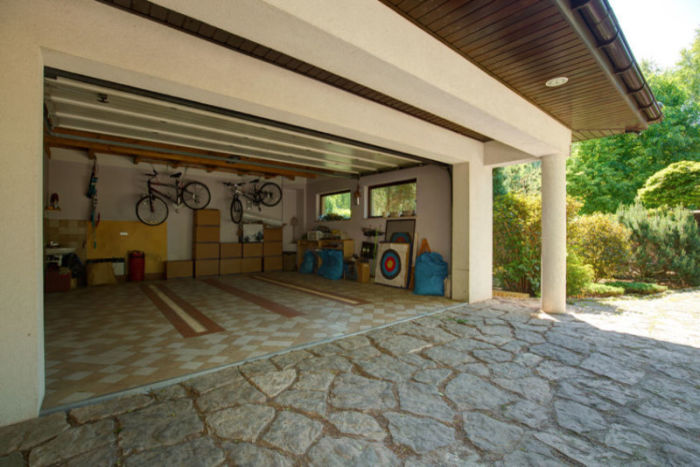 There may also be a member of the family who will be looking forward to spending time in the garage and would be disappointed to tour a space that is cluttered, outdated and clearly forgotten. Buyers want to know that every corner of their purchase is worth their money and that they're getting a great deal. Showing off the functionality of one of your home's entry points is a great way to add value and enhance a buyer's experience.
Whether the buyer will be using their new garage as an area for working on large projects or a practice space for their band - it's important that the details of this space align with the rest of your home as the cherry on top. Follow these steps to ensure your garage is not a setback when selling your home.
Step 1: Declutter
Before you can accomplish anything in this space, it's important to get rid of the junk. Garages tend to accumulate items that aren't being used in our day-to-day that we could easily throw away without remorse. If there are items you hope to keep that are being stored in your garage, consider transferring those items to a space that is intended for storage such as a closet, attic, basement or outdoor shed. People will be expecting those spaces to be organized, but they will also be more forgiving if the clutter is hidden there. If there are no other spaces throughout your property that you can store these items, dedicate some time to organizing everything you come across.
If you are not feeling particularly attached to what you find, it's time to let it go! Commit yourself to saying goodbye to anything that hasn't been used in the past year. Donate or sell items that someone else may find useful, throw away broken or damaged items and organize the rest. At the end of the day, it's less stuff to lug to your next home.
Step 2: Freshen Up
Now that you've moved all that junk out of the way, it's time to freshen up. This means adding a new coat of paint to the walls and garage doors, wiping down windows and surfaces if you have them, scrubbing the floors, replacing light bulbs, getting rid of bugs and making your garage feel like a space that has living potential. For extra flare, you may even consider decorating this space with art on the walls, updated lighting and/or new flooring.
Step 3: Use Your Wall Space
One of the best ways to get organized in a garage is to use wall mounts and peg boards. You'd be surprised by the amount of things you can store up high and out of the way! Bicycles, tools, kayaks and more can all be placed neatly on your walls. Space permitting, it may even be wise to install overhead storage for neatly organized transparent bins to show off just how much space there is in your garage!
Step 4: Ensure Safety
Hanging items up on your wall can only work if it's done safely. The last thing you want is a potential buyer seeing set ups throughout your garage that are noticeably unsafe or worse, getting hurt on their tour. You want buyers to see that you're responsible and that you have taken care of their potential home. No one wants to buy from someone who is comfortable living in unsafe circumstances.
---
Details matter when it comes to selling a home, which is exactly why it's crucial to stage every room and piece of the property to show off it's best qualities. Buyers want space, functionality and livability in all aspects of their purchase. Show them how they can achieve everything their looking for in your home and you'll be set!
Need help selling? Let us know and we'd be happy to help!
Photo copyright: bialasiewicz / 123RF Stock Photo