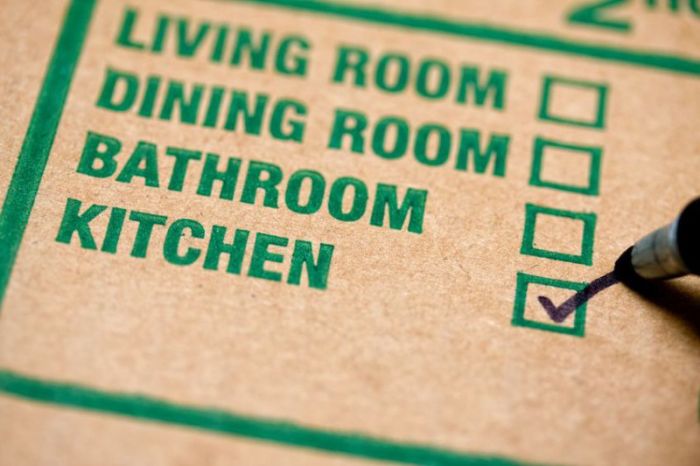 Let's face it. While finding your dream home is one of the most exciting things that people experience, the whole start to finish process can get overwhelming. This Ultimate Moving Checklist Timeline will keep you organized, and prepared to minimize stress as you plan for your big moving day!

8 weeks prior to move:

If you're selling your house, once you go under contract, you can usually expect 30 - 45 days from contract to closing. For this reason, we recommend starting with these things before listing your house.

First things first. Start with decluttering. Create "Keep", "Sell", "Donate", and "Trash" piles. Anything you won't need between now and your move, go ahead and pack. Almost everyone tends to purge, purge, purge, when they move. This can include selling things on ebay and holding yard sales. Anything that isn't worth selling goes into the donate pile and of course anything else is trash.

Investigate companies you may need help with. Movers, truck or trailer rentals, cleaning companies, handymen, etc.

Create a moving binder. Use this to put documents in related to your move. These can consist of your lease or deed, survey, homeowners or renters insurance paperwork, your home warranty, estimates from movers, any paperwork on your property, etc. If you have children, organize school records also. Store the binder in the same place every time you add to it or refer to documents inside so it doesn't get lost.

Inventory. Make a list and take photos of your possessions that you value most. Use this to make sure these things get moved carefully and photos for insurance reasons in case something gets damaged.

6 weeks prior to move:
Slow down on shopping. Start using up what you have as far as food, especially perishables and things like cleaning supplies and toiletries to minimize waste and potential for messy spills in your move.
Begin gathering boxes and packing anything you won't need in the next 6 weeks

5 weeks prior to move:

Amplify your Keep - Sell - Donate - Trash strategy.
Sell what you can where you can. Take pictures and post in classified sites online. Donate things to friends, family, and local thrift stores. The rest is history!

4 weeks prior to move:

Select your moving company if you plan to use one. Make your appointment or reservation with your mover or truck rental.

Get to packing. It often times ends up being more work than people estimate. Label your boxes with items as you put them in to make it easy to find things.

If you plan on using any other services such as handymen or cleaning companies, schedule your appointments.

Start changing your address with your credit card companies, doctors offices, schools, post office, etc.

3 weeks prior to move:
Contact your utility companies to schedule your cancelations or transfer of services

If you're moving out of town, you may want to plan a farewell party. Now is the time to get those wheels turning if you want to do so.

If you have kids, you may want to arrange for childcare on your moving day(s).

If you're moving out of town and will be using new doctors, dentists, etc., request your medical records be transferred to your new providers.

2 weeks prior to moving:

Request your moving day(s) off work if necessary.

Confirm your rentals and appointments with moving companies, truck rentals and cleaning services.

1 week prior to moving:

Pack everything else that you won't need in the next week.

Set aside a box or a few boxes with things that you will need immediately upon moving in to your new place.

Days prior to move:

Double check all of the details. Go through your wallet and make sure you've arranged address change for everything in there.

Double check everything in your binder.

If you have friends or family helping with moving or childcare, confirm with them.

If any deposits are required for movers, new location, etc, make sure those are complete.

THE BIG DAY:

Write down each item as it gets places into the moving truck.

If a floorplan is available of your new home, use it as a map for the movers or any one helping to know where to put items as they arrive.

Be sure to hand over all keys, garage door openers, remotes for lights/fans to the right person, ie Realtor, property manager, etc. Also be sure to provide your new address in case any mail accidentally gets delivered to your old address.

After everything is moved out, walk the house to check for damages and also to say your last goodbyes! Make sure everything is locked up.

That's a wrap, folks!

Enjoy turning the page to the next chapter!