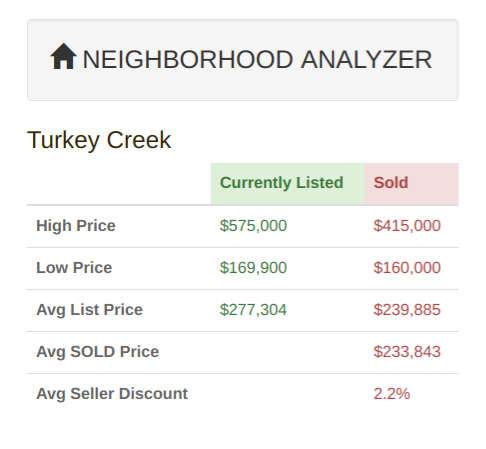 Turkey Creek is a popular and highly sought after gated golf course community located just inside the Alachua City limits on the outskirts of Gainesville. Turkey Creek has a convenient location off of Highway 441, close to 43rd Street, yet is just outside the city enough that it has a quiet, peaceful setting. Take 441 South for a straight shot into the heart of Gainesville or just 6.5 miles west, you can hop right on I-75 to easily get going.
There are currently 25 homes listed for sale in Turkey Creek, to date of this publication. Prices of homes currently listed range from $169,900 to $575,000 with an average list price of $277,304. As you can see in our graphs below, the amount of homes in Turkey Creek sold per month has almost DOUBLED from this month last year. Average sales price has gone up more than $10,000 in the last year and price per square foot shows major improvement, especially in the last 6 months.

Most importantly, The bar graph shown at the bottom right shows that Turkey Creek has a high inventory in comparison to both the city of Alachua and Alachua County. What does all of this mean? Considering the property appreciation from just last year, it's a GREAT time to sell… but ALSO, considering the amount of inventory, it's a great time to BUY, as well.

What the neighbors are saying about why they love Turkey Creek:
Residents had tons of reasons for loving where they live! Here are the top several. Safe, Amenities, Beautiful, Peaceful, Quiet, Friendly neighbors, Dog Friendly, and Close-knit.

For THE most up to date market stats and info on Turkey Creek, be sure to visit TurkeyCreekAlachua.com! If you have questions, comments, or feedback about Turkey Creek, please click here!