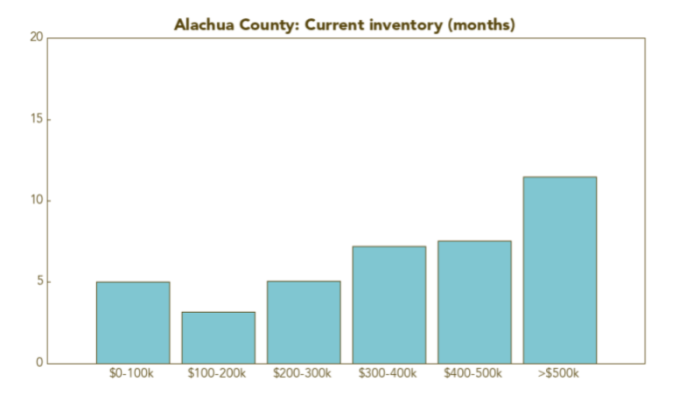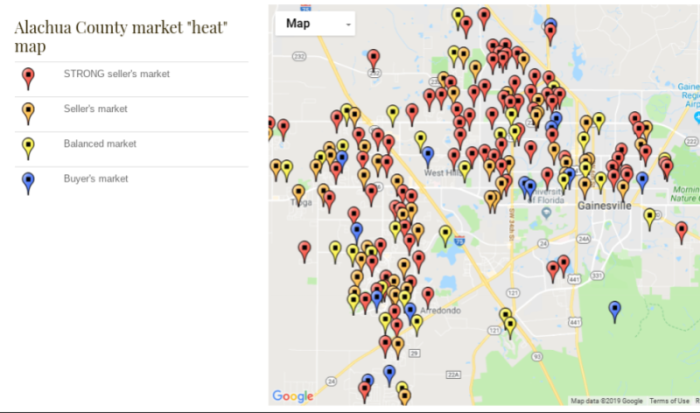 Still thinking of selling? Our local inventory is still VERY low which keeps us in a strong seller's market in most of Alachua County. There's no time like the present!

Low inventory means that sellers don't have as much competition with other sellers to get their homes under contract… and FAST. The Buyer to Seller ratio is off balanced with more buyers out there than listings that match their criteria. You can see here that the inventory is ESPECIALLY low in the $100,000 to $200,000 price ranges and a little better but still low overall in the $200,000 to $300,000 price ranges. Buyers who are looking in these price points get to be patient with their search right now. Many buyers over the last couple of years end up putting offers in on several houses before finally getting one accepted. It's especially a tough time for buyers who are in a hurry to move. This is also a tricky time for investors who are looking to buy but a it IS great time to list investment properties for rent, too.

Sellers on the other hand, are in luck with our current market conditions! Most sellers want to get their place under contract quickly and for various reasons. It can be overwhelming having your house on the market, whether you're living in it still or not, and waiting every day for an offer to come in. A lot of time it's an emotional process as well. It can be stressful (and hopefully exciting) preparing for the next step after the sale is through. The good news now is that things are moving quickly. Any time the average days on market is less than 90 days, we're in a seller's market. The average in Gainesville right now is 83 days on market which is down 3% from last month's 86 days. Keep in mind though that those numbers are for all price ranges of homes that sold.

So… Is it still a good time to sell? The numbers don't lie. Take a look for yourself!

If you'd like to find out how you can get an evaluation on your property to see what it's worth, let us know!